Disaster can strike quickly and without warning. It can force you to evacuate your neighborhood or confine you to your home. What would you do if basic services such as water, gas, electricity or telephones were cut off? Fortunately, there are many organizations providing immediate response and care to those victims when they need it most. Impact 4 Good partners with local disaster response organizations to make a difference via this event. 
Our "Crisis Care Kit" program brings your team together to show your support in a unique way by preparing basic need/hygiene care kits to donate to victims of disasters, each with a message of hope and encouragement.
This program combines the concept of the popular board game "Trivial Pursuit" with a meaningful donation to the disaster response organizations. Teams must answer questions as they roll the dice and move around the ballroom-sized game board. Different colored spaces they land on correspond to different types of questions (company trivia, destination questions, beneficiary trivia, etc.). After teams correctly answer a set quantity of questions, they receive items to begin assembly of hygiene care kits and to write notes of encouragement to accompany them. The team that finishes first wins! 
This activity is customizable to meet your goals and objectives, as well as logistics. We can implement the "Crisis Care Kit" activity in the following ways:
Philanthropic Donation Only

– The base of all our programs; participants will learn about the cause and beneficiary and then get to work on the donation assembly.

Trivia Quiz Show

– Instead of a physical trivial pursuit board, teams earn donation materials through a technology-based trivia game using screen/projection. Great for small spaces!
To close our events, we invite a representative from the beneficiary to express their gratitude and raise awareness on the impact their work has on the community. This establishes a direct connection to the cause and organization your team is supporting.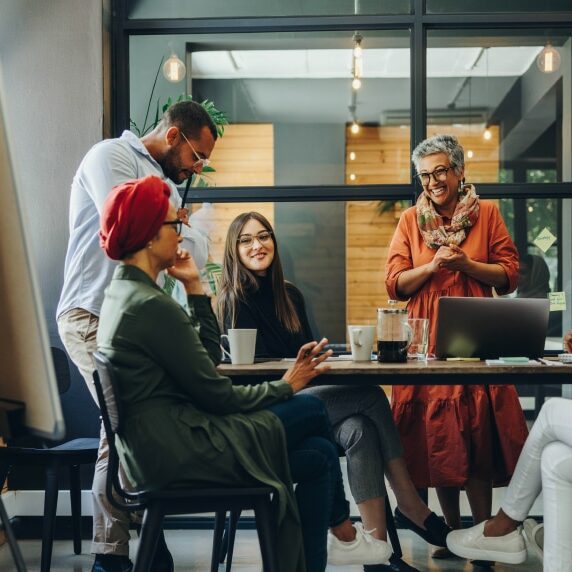 Our team is here to help you plan your activity! Reach out now and we'll quickly work with you to determine the ideal activity and charitable cause for your event.
Community, Disaster Relief, Health & Medicine
Our associates had fun connecting and collaborating as they played team trivia and assembled Red Cross care kits.
– Indiana Farmers Insurance